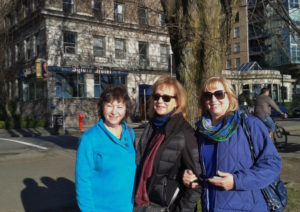 Diane Tullson is happy to report that she survived her childhood and young adulthood. She writes about real-world mayhem in which ordinary people get diseases, get shot, get beat up, get lost, lose their mothers, lose their fathers, lose their phones, their lunch, their marbles, and generally suffer horribly at the hands of the author, for example:
• A shooter threatens a high school and ordinary people risk their lives to stop him.
• A riot erupts after a sporting event and ordinary guys are outed as rioters…and also heroes.
• Ordinary guys get lost in the mountains with a grizzly bear on their trail.
• An ordinary guy gets drawn into the drug trade by his lying girlfriend. Nice.
• Modern-day pirates attack a sailboat and an ordinary girl is left on her own to sail the boat.
• An extraordinarily bad cook gets teamed-up with a first class try-hard in a school cooking competition.
You really can make this stuff up. Very little of this has happened in Diane's own life. (If it's happened in yours, she is sorry. But it still makes for a good story.) She's won these awards:
• American Library Association Best Book
• BC Stellar
• Quick Picks for Reluctant Young Adult Readers,
• New York Public Library Books for the Teen Age
• Canadian Children's Book Centre Best Books for Kids and Teens
She holds an MFA in Creative Writing from the University of British Columbia.
She's Canadian. She was born a long time ago and grew up on the edge of a grassland sea also known as the prairies. Now she lives on the edge of the actual sea. When she's not writing fiction she's writing manuals (it's true), and shamelessly ripping story ideas from headlines. She always wanted to be a writer. Before she became a published writer she worked in offices and wrote when her boss wasn't looking. Her most-fun thing to do is swim in a mountain lake. Pretty exciting, eh? How on earth does such an ordinary person write such dark and tortured stories? Surely she's hiding her past. Surely she's in rehab or jail or therapy.
She isn't, at least not yet. Life has thrown some stuff at her, that's for certain. Her job as a writer is to make sense of that stuff and craft it into a story that you'll want to read. If you find her story meaningful, if it helps you make sense of what's happening in your own life, then she's happy. And she thanks you for reading.
For more information check out Your Questions.